Hesperian Health Guides
Whirlwind Steel Tube Wheel Chair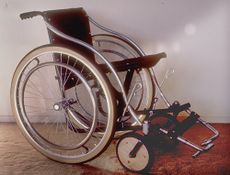 Model with wooden front wheels
The whirlwind (ATI-Hotchkiss) wheelchair is a very strong lightweight folding chair. On rough ground it rides more easily and lasts longer than more costly factory-made chairs. If it breaks, it can be fixed by the neighborhood metalworker. It is narrow and helps the rider to move about crowded rooms.
The frame of this chair is made of thin-wall steel tubing that is easy to shape by someone with basic mechanical and welding skills. It can be built in about 4 days in a small metalworking shop. More than 10 groups of disabled mechanics throughout Latin America are building this wheelchair—often at less than a quarter the cost of imported wheelchairs.
Most materials for this chair can be obtained locally. It uses standard 24" (or 26") bicycle wheels. The extra strong hubs use standard small machinery bearings (which can often be obtained used for free or at low cost from electric machinery repair shops). The axles are ⅝" (1.6 cm.) steel bolts. Seating is canvas (heavy cloth). If the small front wheels are not available, you can make them out of wood (see "Wood wheels—big or small").
The curved fender bar that follows the shape of the tire makes transfers easier. The lightweight folding footrests are narrow at the front, for moving more easily in crowded spaces.
Plans for making hubs, casters, and brakes are on the next page. Complete plans for making this wheelchair are in the book Independence Through Mobility. The book is essential for anyone planning to build this chair.
FOLDING FOOTREST

TOP VIEW
Swing up when not in use.
footrest stop bar
bolt for length adjustment
X-BRACE

weld
Seat hooks slide on frame to fold chair.
bolt for attaching brake
axle socket of thick-wall steel tube
Round tube turns on thinner tube inside it— allowing chair to fold.
X-brace

seat tube
square tubing
Weld steel washers around center hole to add strength.
round tube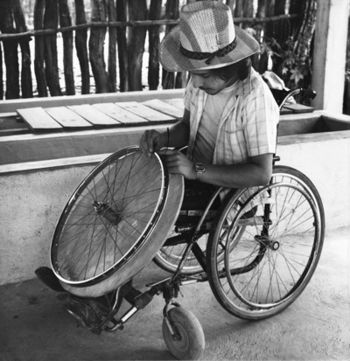 This page was updated:
19 Jan 2018