Hesperian Health Guides
Square Tube Wheel Chair
This wheelchair, like other steel tube chairs, should use only thin-wall tubing. To keep costs down, check with various sources of materials and ask at small fix-it shops for advice and possibly even some free scrap material. Metal scrap heaps are great for materials.
FRONT VIEW

canvas back and seat
Wood footrest bolts to bottom tubes.
TOP VIEW

A weld here adds strength, but is not necessary.
Side U-bolts secure axle tube.
Threaded rod connects bottom tubes to back tubes.
Middle U-bolts secure axle tube.

SIDE VIEW
steel square tubing (1")
wide front casters
bicycle wheel (20" x 1 ¾")
2 double U-bolts attach steel axle tube.

SIDE VIEW
Weld caster hub to square tube.
all corners bolted together (⅜" x 2½")
76 cm. threaded rod and 8 nuts attach back tubes.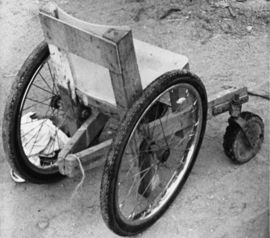 The same design can be made of wood.
HOW TO MAKE YOUR CHAIR
Review drawings. Adjust measurements to fit child.

Cut all sections of square tubing. Make sure that matching tubes are equal in length.

Drill holes in bottom tubes and pass the threaded rod through them. Adjust nuts until a 'V' is formed. (Weld tip of 'V' for extra strength.)

Drill all holes in seat tubes. Pass threaded bolt through seat holes.

Drill holes in back support tubes and front caster tubes.
Bolt to frame.

Weld axle nuts to ends of axle tube. Drill holes for U-bolts and bolt axle tube to frame.

Weld front caster forks to front tubes.

Sew cloth back and seat supports. Screw into place.

Cut out and bolt wood footrest to frame. (Use wedges to get the angle right.)

Attach axle tube with U-bolts and put on the wheels.

Paint frame to help keep tubes from rusting (if not galvanized).
This page was updated:
19 Jan 2018